Overview:
On occasion, Microsoft Word may show a pop-up message indicating that the user must disable CiteRight. This could occur for many reasons. This article will explain how to re-enable CiteRight, using the COM add-in section.
Re-enable the CiteRight Word Add-in from the COM Add-ins menu
1. In Word, click on the File tab.

2. Then click on Options

3. In the next window, select Add-ins from the side panel. Verify that COM Add-ins is selected in the Manage field. Click Go.

4. A new window will appear with a list of available add-ins. Click the checkbox next to CiteRight, then click OK. This lets the system know that you want to re-enable the add-in.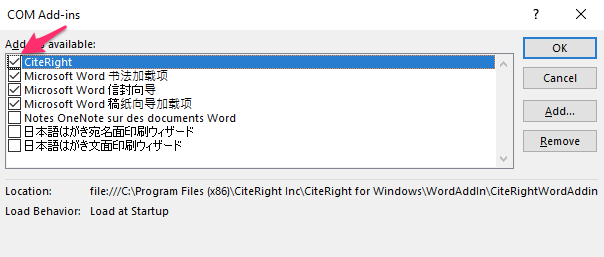 Once you click Save it may take a moment to appear, but you should now notice the CiteRight tab appear on the ribbon. In some cases, where the add-in still does not appear, please see the following link on how to re-enable the add-in: How to: Re-enable a VSTO Add-in that has been disabled