Overview
CiteRight allows an administrator of a company to manage its own user base. If you are designated as a company admin you'll be able to add or delete users as you need them. 
What kinds of roles can you assign to new users?
There are four possible roles that a CiteRight user can have:
The Professional role - This is designated for the typical user that is not going to be required to add, edit, or delete users. This user can save cases, create and share collections, and use every tool in the Microsoft Word Add-In. 
The Admin role - An administrator can add, edit, or delete users in addition to being able to do everything a professional can do. 
The SupportWorker role - A support user has the same permissions as an Admin and is sometimes used for IT professionals to access CiteRight. This type of role cannot be managed by an administrator. Please contact us for help with delegating these roles.
The Account Manager role - This role is automatically assigned to the individual that signs up. In an enterprise setting, your CiteRight Account Executive will set it up for you. An account manager can do everything an Admin can but has the additional benefit of being able to manage the billing portion of the CiteRight account. Check out more on managing billing in this article.
Add, edit or delete a user on the web application through the Manage Users tab
Adding users
Log into your CiteRight admin account at app.citeright.net
Select the Manage Users tab
Click the Add New User button
Enter the new user's details and select Add                                           
Once a user is added, our system will automatically send a welcome email to the new user to set up their password and get started.
Editing or deleting users
To delete a user just click the 3 dots on the right-hand side of the table and select the delete button to remove them. Editing can be done by clicking the Edit button.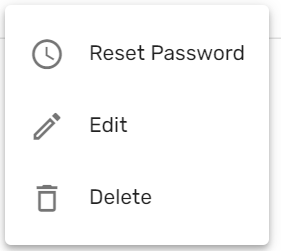 Learn more! What happens to a deleted user's work?
Next: