Before you read this article, you might want to check out:
Overview
In addition to pinpointing paragraphs in cases, CiteRight allows you to copy a quote directly from the case text. In this article we'll walk through how to copy a portion of the case text in your document.
Insert a block quote using the +block quote button
Place your cursor in the area of the document where you want the quote to appear
Select the case from which you want to insert a quote
Highlight the text you want to insert
Select +block quote and CiteRight will automatically create a citation in the document with the block quote.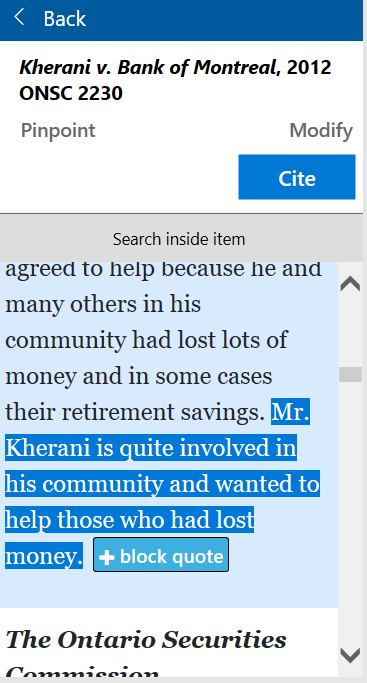 It is important to note that the system will create a reference to the item based on the style of the reference you have selected in the preferences. That said, if you currently have the system set to insert footnote references, then it'll insert the quote and then follow it with a footnote reference to the pinpoint where the quote appears in the case text. As well, you can insert multiple paragraphs by dragging your cursor down the case text and CiteRight will automatically create the range for you (example at paras 23-26).
Next Up: